I'm pretty much obsessed with this wedding. The laid back feel of the venue and decor, that incredible dress and every single photo by Amanda K Photography. Seriously, obsessed. I'm a sucker for effortless events that are focused around guests, vows and celebrations. This wedding just feels so right in every way. And one, more time, let's here it for that dress.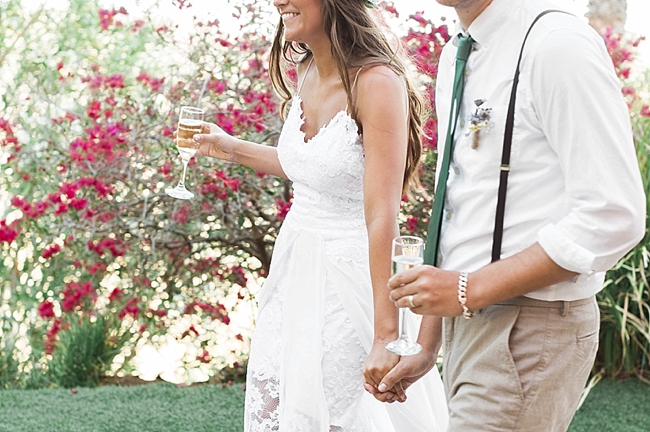 Vendors:
Venue: Rancho Sol del Pacifico // Photography: Amanda K Photography // Wedding Dress: Grace Loves Lace // Groom's Apparel: Banana Republic // Bridesmaid Dresses: Victoria's Secret // Caterer: Pierre's Catering // Dessert: Marie Callender's Pies // Invitations: River City Studio // Floral: Exotic Green Garden // Hair & Makeup: TEAM Hair & Makeup
From the Bride:
Q. Tell us about finding your wedding dress.
A. After browsing several bridal salons in LA, I grew bored by the seas of heavy and structured traditional wedding dresses I had seen a thousand times. I wanted to find a dress I felt like myself in and that reflected my personality - relaxed, unique, and free spirited. I discovered Grace Loves Lace online, fell in love with their dresses, and ordered one of their dresses from Australia. They did not disappoint! The dress I chose was light and flowy, with floor length panels of chiffon that billowed over a french lace skirt. It had delicate straps, a low back, and it looked effortlessly beautiful with a wild floral crown and bare feet.
Q. What was the inspiration/vision for your wedding day?
A. We wanted our wedding to be personal and reflect our style and personality as a couple. Therefore, we wanted it to be natural, relaxed, and fun. Our inspiration for styling our wedding came from mainly from our love of nature and bohemian style, but we tried to make it personal by incorporating decorations that reflect our faith and our history together. Our venue was already so naturally colorful and beautiful that we chose to decorate simply with reclaimed wood and shades of white, tan, and natural greens. Of course we had to incorporate some color, so our florist created our bouquets and flower arrangements out of sprigs of colorful, just-picked looking wildflowers - my favorite!
Q. What advice would you give another couple planning their wedding?
A. The biggest piece of advice we could offer would be to always remember why you are getting married, and to make sure it's for the right reasons. There is so much importance placed on a wedding, and it's so easy to get swept up in all the details, but life quickly returns to normal after the wedding festivities are over. Marriage is the true reason to celebrate, and it lasts forever, so make sure that takes priority over your wedding, which will be over in the blink of an eye.
Q. Most memorable moment?
A. The most memorable moment of the day was right after we were married. We had just walked back up the aisle and we finally had a moment to ourselves to relax and take in the moment together. We couldn't stop laughing and hugging. After a minute to ourselves, our bridal party joined us and we climbed up the the lighthouse on the property where we hugged, celebrated, and drank champagne as we took in the incredible views and watched our guests enjoying themselves below us. It felt like a dream.