Yasmin Zialcita, Independent Stella & Dot Stylist invites you to shop an exclusive Online Trunk Show, where you can purchase any of the styles shown above and so much more.  In addition, there isa a great perk associated with this event:
ONLINE TRUNKSHOW MYSTERY HOSTESS REWARDS
1. Hostess rewards - a free jewelry shopping spree which will be a percentage of the total online trunk show sales
How to Win: Earn 1 Entry for the ONLINE TRUNK SHOW MYSTERY HOSTESS REWARDS by:
1. Clicking on the Stella & Dot Online Trunk Show Badge below and placing an order between Now - July 16, 2010 according to these instructions: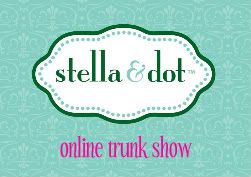 When ordering on the website make sure you use these instructions, so you will be directed to the online trunk show.  We want to get it right, so you are entered to win the FREE Hostess Rewards.
1. Click on the Stella & Dot Online Trunk Show Badge above, and you will be taken to Yasmin's Stella & Dot website.
2. Click on "Can't make it to the party?" in the upper right-hand corner of screen
3. Click on "Find your hostess": for First Name enter Mystery, for Last Name enter Hostess.
4. Click through and make sure then at the top right it says: Party Host: Mystery Hostess. Your purchase will count toward this Online Trunk Show and your name will be entered into the drawing for the FREE Hostess Rewards.
5. Your order should arrive within in 4-5 business days. Please don't hesitate to email your Stylist, Yasmin, for any questions or orders: yasmin@awildflowerevent.com
Online Trunk Show ends on July 16, 2010.  On July 17, 2010, Yasmin will pick a name at random from those that make a Stella & Dot purchase via her website to win the hostess benefits (basically, a free jewelry shopping spree).
independent stylist id #109212